Sugar, sugar, and more sugar! It seems to be everywhere. Even in places you don't expect it!  Have you stopped to notice how much sugar our children consume on a daily basis?  Even if we try our best as their parents to limit the sugar.  They will get it other places. There is a birthday celebration at school at least once a week, then add friends birthday parties, family birthdays, holidays such as Halloween, Easter, Christmas.  All centered around eating sweets.  That is why I have been consciously reading labels and ingredients and trying to reduce the amount of sugar I allow myself and my family to consume.
Family birthday celebrations can be a struggle, right?! Recently, I hosted a family birthday lunch and made an effort to keep the sugar as low as I could for a birthday party.
I spent a bit of time researching clean eating desserts with no added sugar and clean eating side dishes to serve at the birthday lunch.  It didn't take too much time and I enjoy looking for and trying new recipes as it is. Everything was homemade from scratch.  Even the delicious homemade angel food cake made by my mom and step-dad.  Yes, we still had cake but this homemade cake is a far cry from the bakery cakes!

Here is what I came up with and they were delicious alternatives to the processed foods we have become used to.  

Oatmeal Raisin Energy Bites (A hit at the party):
Ingredients:  
1 cup rolled oats

¼ cup steel cut oats

¼ cup ground flax

1 cup raisins

1 tsp cinnamon

Dash nutmeg

2 tsp vanilla

1 ½ Tbsp honey

½ cup almond butter (all natural and no sugar added)
Instructions:
Add dry ingredients into a bowl and mix to combine evenly.

Add the remaining vanilla, honey, and almond butter and mix to form sticky dough.

I the dough is too sticky, add more rolled oats.  If the dough is too dry, add more almond butter to get the consistency you need.

Roll the mixture into 1 inch balls.

These won't last long, but do store the leftovers in your fridge!





Recipe adapted from www.getcreativejuice.com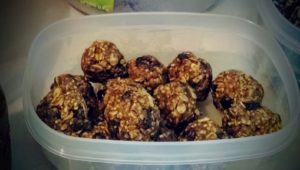 Almond Joy Energy Bites:
Ingredients:
2 cups, loosely-packed and pitted medjool dates (soak in water if your dates are not nice and soft)

2 cups almonds

½ cup shredded coconut

½ cup unsweetened cocoa powder

1 Tbsp coconut oil

1 Tbsp vanilla extract

½ tsp almond extract
Directions:
Add dates and remaining ingredients to a food processor.  Pulse a few times to combine.  If necessary scrape the sides of the bowl with a rubber spatula. Then blend for until the mixture starts to become sticky and forms a clump.  

Using approximately a tablespoon of dough roll into a ball.  You can then roll the ball into shredded unsweetened coconut for more flavor and better appearance.  

Store in an airtight container in the fridge.  




Recipe adapted from www.gimmesomeoven.com


Flourless Double Chocolate Muffins
These flourless muffins are delicious and surprisingly healthy! Kids ate them right up and asked for more. The recipe makes 12 muffins.
Ingredients:
1 (15 oz) can chickpeas rinsed and drained
3 large eggs
 1/2 cup pure maple syrup (I used honey)
 1/3 cup unsweetened cocoa powder
 1 tsp baking soda
 3 Tbsp coconut, oil melted
1 tsp pure vanilla extract
Ghirardelli semi-sweet chocolate chips for topping
Instructions:
Preheat oven to 350 degrees.

Prepare 12 muffins cups by lining with muffin papers

Place chickpeas, eggs, syrup or honey, cocoa powder, baking soda, coconut oil, and extract in blender or food processor, cover and blend until smooth.

Divide batter among muffin cups.

Top each muffin with four chocolate chips

Bake for 12-14 minutes until toothpick comes out clean (mine took longer to bake)

Cool completely and Enjoy!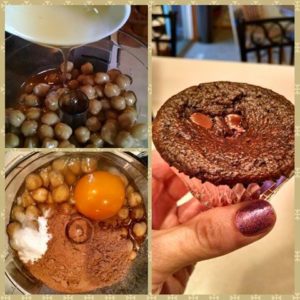 Slow Cooker Baked Beans (So Good)!
Ingredients:
2 ½ cups (one small bag) of dried navy beans. (soak in water for 6-8 hours)

8 oz of bacon, cooked and broken into pieces

1 green bell pepper, diced

1 onion quartered

1 – 15oz can plain tomato sauce

¾ cup pure maple syrup

3 Tbsp yellow mustard

3 Tbsp apple cider vinegar

1 tsp chili powder

1 teaspoon salt

3 ½ cups of water
Instructions:
Place the beans, bacon, bell pepper, and onion in the bottom of the slow cooker.  Set aside.

In a small bowl whisk together the tomato sauce, syrup, mustard, vinegar, chili powder, and salt.  Pour over the bean, bacon, pepper, and onion.  Add 3 ½ cups of water.  Turn slow cooker to high and cook for 10-12 hours.  Discard onion pieces and serve warm.

Recipe adapted from 100 Days of Real Food